EW Bullinger Books – Home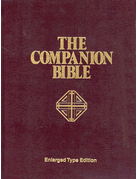 Got a Question? Call Us Now! 1-864-682-5425
Lowest Prices!
Largest Collection! – It is not available if we don't sell it!
All orders shipped on the day they are made
Rare, Hard to find Books not available other places.
---
---
Ethelbert William Bullinger was born December 15th in Canterbury, Kent, England. He was the youngest of five children of William and Mary (Bent) Bullinger. His family traced their ancestry back to Heinrich Bullinger, the Swiss Reformer, a covenant theologian. His father succeeded Zwingli in Zurich in December of 1531.
Being educated at King's College, London, he was a recognized scholar in the field of biblical languages. The Archbishop of Canterbury granted him an honorary Doctor of Divinity degree in 1881 in recognition of his biblical scholarship. After graduation, on October 15, 1861, he married Emma Dobson, thirteen years his senior. Bullinger's friends included well-known Zionist Dr. Theodor Herzl. This was a personal friendship, but accorded with Bullinger's belief in a Biblical distinction between the Church and the Jewish People.
Dr. E W Bullinger believed in and taught the pretribulation, premillennial rapture. He is considered an untradispensationalist. This was because he taught that the gospels and Acts were under the dispensation of law. He further taught the church actually began at Paul's ministry after Acts 28:28.
His three major works were:
As an interesting side note: Bullinger was also a practiced musician. As part of his support for the Breton Mission, he collected and harmonized several previously untranscribed Breton hymns on his visits to Trémel, Brittany.
---
We welcome you to visit our family of Christian stores! Ministry Helps * Dake Bibles * Clarence Larkin books * Bibles and books by EW Bullinger * Bibles and Books * Stewardship Books* Books by EW Kenyon